My Address:

Claire Shanahan
Dublin
Ireland
Cheeverstown House

The mission of Cheeverstown House is to provide quality services and programmes for people with a learning disability with regard to their ability.
Mrs Greene's is a non profit volunteer shop which sells goods in aid of Cheeverstown House. You can order online.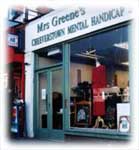 My Cheeverstown Bus - Paul at the Wheel!



My Wish - My Life Objective:

To live a fulfilling & happy life making the best use of my abilities.
Education
Attended Cheeverstown House, Dublin from 1985 to 1991. Please check out the link.

Attended Central Remedial Clinic Dublin. Website can be accessed through link.

Attended Scoil Mochua, Clondalkin. My School page has full details.
I re-joined Cheeverstown House at Airton Rd. in November 2001 and commenced the work phase of my life. Already I have made many friends with the staff and clients. Debbie, Sara and Ann are currently my assistants and we all get on so well.